Brief Introduction
In China's machinery production, the stamping process has the advantages of saving materials and energy, higher efficiency than traditional machining, lower technical requirements for operators, and manufacturing products that cannot be achieved by machining through various mold applications. Its uses are getting wider and wider.
China Je23 Series 40 Toneccentric Punching Machine and 25 Ton Hydraulic Punching Machine With Stroke Adjustment Pneumatic clutch and stroke adjustment mechanical eccentric punching machine is made of one-piece special cast iron alloy, which ensures high rigidity and vibration resistance. China XIYUAN as a mechanical manufacturer, the slider is designed with a long guide rail and is equipped with a slider balance device to ensure accurate and stable operation. It can match any automated production requirement to increase productivity and reduce costs. The machine uses two sliding balancers to keep the machine balanced. The drive center is consistent with the overall center of the machine to ensure accurate and stable stamping. The friction parts such as the crankshaft, gear, and gear shaft are ground after quenching and heat treatment, with extremely high wear resistance and balanced and stable performance.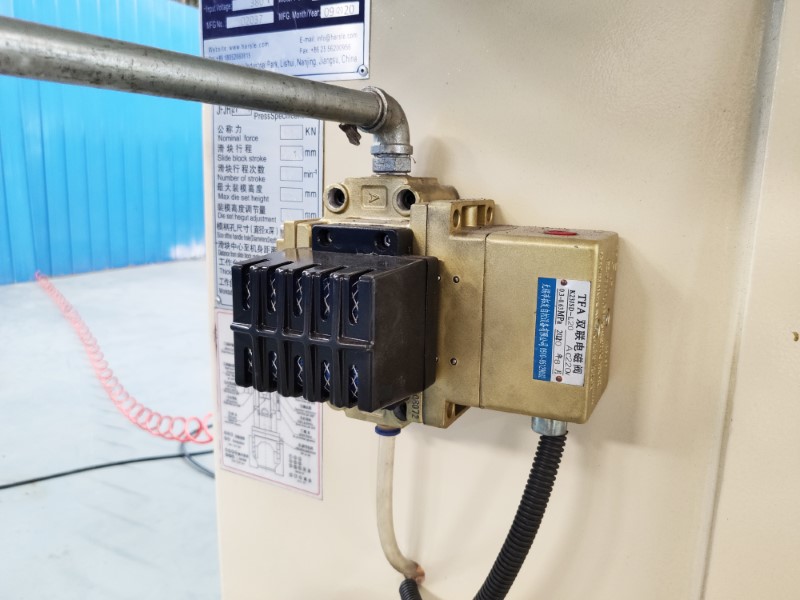 The structure and characteristics of China XIYUAN machinery
The J23 series press is a new generation sheet process developed by China XIYUAN as a manufacturer, which is used for cutting, punching, blanking, bending, and light drawing work.
C-frame provides maximum stiffness and minimum deflection for precision parts, extending tool life. Steel welded frame, high rigidity, small deformation, and compact. Thick plates and large columns give you the stable platform you need for demanding applications.
The wide body frame eliminates vibration and improves IDE life and machine, which means economical and practical. The operation space is large, and the movable backing plate can be moved out of the frame to set the mold. The structure is simple, and the utensils are beautiful.
High precision, high efficiency, simple and convenient operation, good performance, excellent price, and good service.
Transmission control and braking system
The punching machine uses a rigid rotary keyed clutch that is rigid and well supported. The clutch provides continuous travel for mass production.
The crankshaft is made of special alloy steel with high machining accuracy and is installed in a bronze bushing for smooth operation, longer life, and higher precision.
Properly sized flywheel, constructed of high-quality cast iron, stores and releases enough energy for pressing operations and is properly balanced to ensure smooth operation.
Gears are cast steel or fabricated. The gear teeth are produced by a precision gear hobbing machine.
China XIYUAN as a mechanical manufacturer, the machine is controlled by two-hand button and foot switch: anti-tethering, non-repetitive control, with ring guard; OSHA compliant.
Ram adjustment and structure
The cast iron structure of the worktable and RAM body is tempered as a whole and adopts secondary transmission. The crankshaft of the transmission part is placed horizontally, and the flywheel and gear are externally opened, which is convenient for maintenance.
The slider is of cast box structure with good rigidity. The sliding block is installed with a pressure overload protection device with a simple design. If the sliding block is overloaded, the fuse will be blown and damaged, thereby protecting the machine tool and the mold from damage.
The die height of the slider is adjusted manually, and the V-shaped slider guide is used, which is convenient for adjustment.
Electrical system and safety interlock
China XIYUAN electrical components are imported or Sino-foreign joint ventures. The electrical cabinet is equipped with radiation units in line with international standards, is safe and reliable, has a long life, and strong anti-interference ability.
Protective fences and safety interlocks ensure safe operation. With a removable one-hand foot switch, it is easy to operate.
The machine has passed the EU,CE certification and ISO quality system certification.
balance
The transmission center is in line with the machining center to ensure the precision and stability of the press.
Two balancers are used locally on the slider to ensure the balance of the machine. The stability of friction parts such as high-precision cranks, gears, and gear shafts are all ground and then heat-treated and hardened, with high wear resistance and balance and stable performance.
JE23 40 ton eccentric punch with stroke adjustment Product Highlights
J23 40 ton mechanical metal punching machine adopts high-quality steel plate welding and welding high rigid body, combined wet multi-plate friction clutch, gear pair oil immersion lubrication, rectangular six-sided extended guide rail, equipped with multi-link mechanism, more suitable for shallow drawing process; high-performance electric adjustment mold; hydraulic pressure Overload protection device; lifting balance cylinder device, imported double solenoid valve; electric concentrated oil forced lubrication system.
We specialize in the production of sheet metal machines, CNC bending machines, hydraulic shearing machines, V-grooving machines, laser cutting machines, etc. The products have been sold to Germany, the United Kingdom, the United States, Australia, Russia, Italy, and other countries, and have been unanimously recognized by customers.
JE23 40 ton eccentric punch with stroke adjustment products details
The high-performance press is C-type, and all parts are installed in the body, which is convenient and safe to operate. Pneumatic double balance cylinder balances the weight of the slider and the upper die, reduces impact and noise, eliminates the gap between the connecting rod and the slider, and reduces the impact and wear of the stressed parts. The whole machine adopts imported PLC centralized control, and the gas circuit adopts imported safety double valves. Control, can realize jog, jog, word and continuous punching.
Main features of China XIYUAN machinery
 Using high-strength cast iron, after stress relief treatment, good rigidity and high precision.
 Supported by two guide posts with enlarged center distance, the guide post of JE23 40 ton eccentric punch with stroke adjustment has excellent rigidity and precision in the direction of eccentric load and slider load.
The guiding direction is guided by double columns, the length extends to the position of the material line, and the horizontal component force can be directly received during processing to realize high-speed and high-precision processing.
 For the tonnage of 60 tons and above, JE23 40 ton eccentric punch with stroke adjustment, the die height is adjusted electrically, with high quality configuration. Pneumatic components, electrical components, seals, buttons and other key components are all imported.
 The electromagnetic speed regulating motor is used for stepless speed regulation, and the number of strokes is adjustable.
JE23 40 ton eccentric punch with stroke adjustment adopts wet pneumatic friction clutch brake, imported safety double valve control, and the action is sensitive.
Air cushion and photoelectric protection are optional devices.
 Adopt imported hydraulic overload protection device.
J23 40 ton mechanical metal punching machine with stroke adjustment adopts famous brand professional press control system.
As a mechanical supplier, China XIYUAN adopts a tilting casting structure, and the body can be tilted so that the blanking workpiece or scrap can slide off the mold.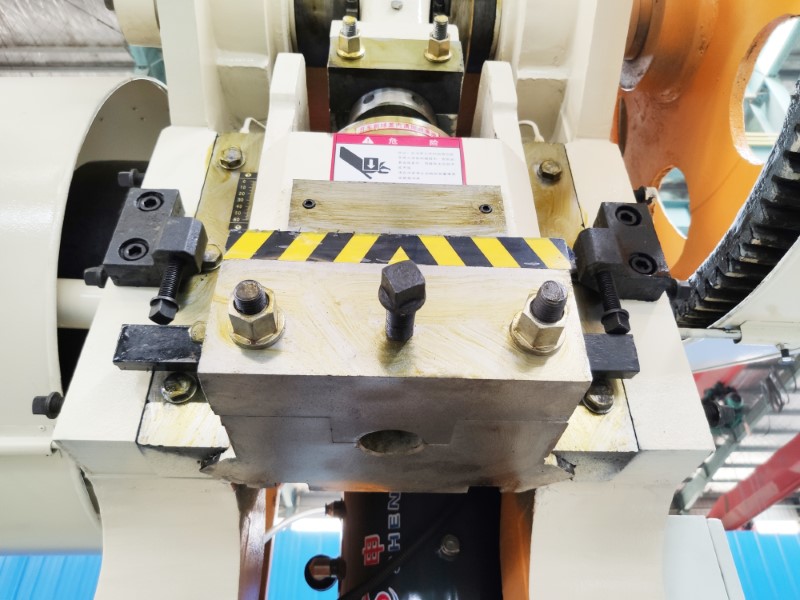 As a manufacturer and supplier, China XIYUAN specializes in the production and sales of Press brake machines, Plate shearing machine, punching machine, spiral duct machine, lock forming machine, edge folding machine, plasma cutting machine, power press, ironworker, hydraulic grooving machine, Edger, Shears & Bending Machines, Blades/Molds, etc.
China XIYUAN This product is widely used in precision electronics, communications, computers, household appliances, auto parts, motor rotors, and other small precision parts stamping processing. It is suitable for the mass production of precision electronic and metal parts.
FAQ
1. Are you a J23 40 ton mechanical metal punching machine with a stroke adjustment manufacturer or trading company?
We are the manufacturer of JE23 40 ton eccentric punch with stroke adjustment.
2. JE23 40 ton eccentric punch with stroke adjustment do not know how to operate?
We can send our JE23 40 ton eccentric punch with stroke adjustment engineers to your country, and you can also send your engineers to our factory to learn to operate JE23 40 ton eccentric punch with stroke adjustment. In addition, detailed installation and operating instructions are included, which is very simple. We provide phone and email support 24 hours a day.
3. How is the quality of JE23 40 ton eccentric punch with stroke adjustment?
Hydraulic company is a mature brand in China, through our 12 years of technical research, our design including structure and details are greatly improved in safety and precision, which can match all CE standards or stricter standards. Our JE23 40 ton eccentric punch with stroke adjustment is distributed in about 50 countries around the world with sheet metal industry and where our machines are located, with a good reputation and end user satisfaction.
4. What are your payment terms for J23 40 ton mechanical metal punching machine with stroke adjustment?
We support T/T, L/C, D/P, D/A, Western Union, etc. TT, 30% prepaid, 70% paid before shipment.