The stamping process of The J23 10 Ton Mechanical Sheet Metal Power Press has the advantages of saving material and energy, being more efficient than traditional machining, having less technical requirements for operators, and producing products that cannot be achieved by machining through various die applications. Its uses are getting wider and wider.
Our The J23 10 Ton Mechanical Sheet Metal Power Press machines are sold to countries all over the world, such as Germany, USA, Canada, Russia, etc. The factory covers an area of ​​1000 square meters and has dozens of young engineers dedicated to the research and development of The J23 10 Ton Mechanical Sheet Metal Power Press technology.
Summary
Mechanical sheet meta power press is used to cut, stamp, form, or assemble metal or other materials using tools or dies attached to slides or plungers. For heavy duty operations in large industries, power presses can be powered by a pneumatic, hydraulic, NC plate bending machine or mechanically.
In our many years of manufacturing quality power presses and other power press products, we have put customer needs first as our goal. We believe in providing the right solution to meet your needs, whether it has the right parts to repair your existing machine, providing the machine you need at an affordable price, or keeping your machine in top condition to provide continuous support.
Types of Power Presses
There are C-type power press and strut type tools, depending on the shape of their frame. These versatile industrial pressing tools are designed to perform bending, cutting, and pressing operations for a variety of manufacturing activities.
Several types of power presses are now available, such as mechanical presses, hydraulic presses, pneumatic presses, and electric presses. Mechanical presses are very fast and high-precision devices. It has a clutch that engages the flywheel to power the crank mechanism. The hydraulic press works by two synchronized hydraulic cylinders on the frame that moves the top beam. Pneumatic presses use air pressure to exert force and energy on the plunger. Electric presses utilize a servo motor to move a belt drive or ball screw drive to apply pressure on the plunger.
Pneumatic and electric presses are mainly used for applications requiring less tonnage. These reliable and precise NC plate bending machines are used to manufacture high quality products. They use less energy and are safer than flywheel-driven presses. Due to the safety mechanism, the plunger movement can be easily stopped at any time.
Column power press is also another multifunctional NC plate bending machine. It consists of two struts and a central bed to apply a lot of hydraulic or mechanical pressure to ensure the tough metal bends. These unique tools are precise, reliable, and corrosion resistant. They are primarily used in heavy duty metal cutting and bending applications.
The latest models of press equipment are computer controlled. They have gauges and sensors that allow operators to adjust settings related to that manufacturing process. Using advanced technology, these modern power presses can easily perform complex sheet metal work at relatively low manufacturing costs in many industrial fields.
Press Features
It is one of the most adaptable sheet metal machines on the market and is used in a variety of heavy industrial applications. Forming sheet metal by hand previously required a lot of labor and force. But with the help of a Power press machine, applying a lot of pressure will make it easier to cut, bend, press, and form sheet metal into different shapes and sizes.
The frame structure has good rigidity so that the frame deformation is minimized.
The drive mechanism has high precision, ensuring low vibration and high quality.
NC plate bending machine has well-designed electrical control to match various automation equipment.
Ergonomic and comfortable operating environment.
Practical electric grease lubrication system to ensure smooth operation.
A variety of man-machine protection methods meet national safety standards.
Accuracy: JIS Class I.
productivity
High precision machining
Efficient operation
NC plate bending machine ensures high quality of products
operate
Operation to facilitate implementation
Fixed locking six-sided guide rail
Low noise for cutting
Safe and reliable operation
Features of J23 10 ton Mechanical sheet meta power press
The worktable is finished by a large-scale milling machine, which ensures that the pressed product has a high flatness and a beautiful appearance.
The pressure can be adjusted within the range of 0-10 tons, and the appropriate pressure can make the pressing quality better.
The lifting speed of the platen is 1M/MIN, which is fast and efficient.
Equipped with timing control, adjust the pressing time according to the production process, and the pressing plate will automatically rise when the time comes.
Equipped with emergency stop button and automatic shutdown protection switch when the stroke exceeds the limit to ensure safe production.
 Main parts of the press
Base: The base is the support part of the press and provides the arrangement of the tilting and clamping frame in the tilting press.
Ram: Ram reciprocates within its guide rail with specified stroke length and power. Stroke length and delivered power can be adjusted as required. The bottom end of the Ram has a punch to machine the workpiece.
Flywheel: The flywheel is installed on the edge of the drive shaft and connected to it through a clutch. During idling, energy is stored in the flywheel, which is expected to maintain a constant speed of the punch as it is forced into the workpiece.
Clutch: The clutch is used to connect and disconnect the drive shaft from the flywheel when it is necessary to start or stop the movement of the plunger.
Brake: The NC plate bending machine brake is used to stop the movement immediately after the drive shaft is disconnected from the flywheel.
working principle
The plunger and bed are equipped with combined molds to form sheet metal into specific shapes. An electric motor powers the rotation of the flywheel. The rotating flywheel is connected to the crankshaft through a clutch. The crankshaft then links the ram's upward and downward movement with the flywheel's rotational action. The workpiece is fed into the mold, and the tool cycle is initiated. When the upper and lower dies are pressed together against the stock, a reshaped part is formed. After the downstroke is complete, the formed workplace is removed and replaced with a new form of the plate for the same process.
Mechanical sheet meta power press is a machine for cutting or forming various materials by compressing the workpiece or feeding it into a cutting tool and applying the necessary pressure. They are used in various manufacturing industries, including metals, plastics, textiles, rubber, automotive, plywood, and many others.
The operator must have the appropriate knowledge and skills for the machine's work
Designate personnel to receive training before operating the machine, as that is the person responsible for maintaining the engine.
Also take some written notes about the work of the machine, which will help people understand the machine easily.
It is necessary to check the machine's working condition regularly for safe use.
The components used in the machine can be checked regularly by knowledgeable personnel.
Correctly record the maintenance activities of the electric press so that you can also schedule the next one on time.
When the machine is not in use, the power should be turned off.
The J23 10 Ton Mechanical Sheet Metal Power Press Product Details Description:
With tiltable casting structure, the body can be tilted to make stamping workpieces or scraps slip from the mold.
The J23 10 Ton Mechanical Sheet Metal Power Press utilizes a rigid turnkey clutch and the press is available as single or continuous operation standard.
The punch press adopts a single brake. The slider is equipped with a down-pressing safety device, which can be pressed down to protect the whole machine.
The J23 10 Ton Mechanical Sheet Metal Power Press can avoid overvoltage damage.
The machine has the advantages of high versatility, high precision, reliable performance and convenient operation.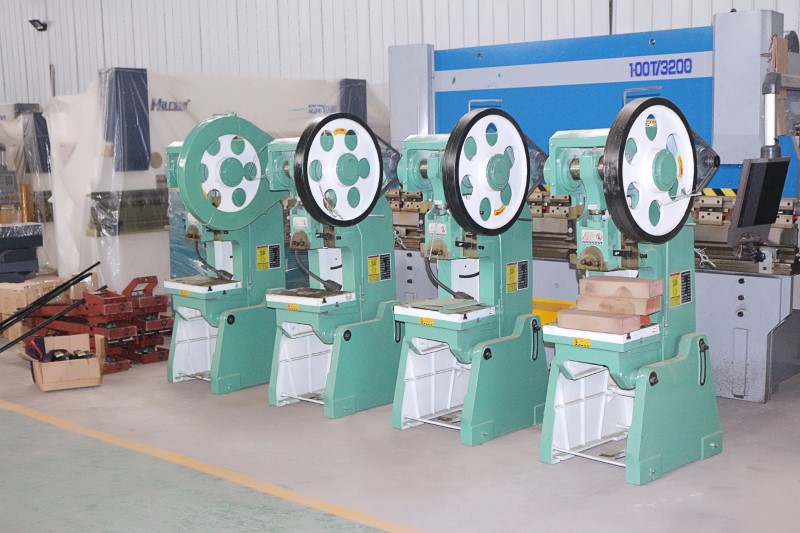 Equipment use
Mechanical sheet meta power press for bonding furniture panels. As well as leveling and shaping. For wooden doors and various boards, the pressing quality is good, the speed is fast, and the efficiency is high. Widely used in furniture manufacturers, set door manufacturers, decorative panels, and other panel production industries.
FAQ
1. Are you a J23 10 ton Mechanical sheet meta power press manufacturer or trading company?
We are J23 10 ton Mechanical sheet meta power press manufacturer.
2. Don't know how to operate J23 10 ton Mechanical sheet meta power press?
We can send our J23 10 ton Mechanical sheet meta power press engineers to your country, you can also send your engineers to our factory to learn to operate J23 10 ton Mechanical sheet meta power press. In addition, detailed installation and operating instructions are included, which is very simple. We provide phone and email support 24 hours a day.
3. How is the quality of J23 10 ton Mechanical sheet meta power press?
Hydraulic company is a mature brand in China, through our 12 years of technical research, our design including structure and details are greatly improved in safety and precision, which can match all CE standards or stricter standards. Our J23 10 ton Mechanical sheet meta power press is distributed in about 50 countries around the world with the sheet metal industry and where our machines are located, with a good reputation and end-user satisfaction.
4. What are your payment terms for J23 10 ton Mechanical sheet meta power press?
We support T/T, L/C, D/P, D/A, Western Union, etc. TT, 30% prepaid, 70% paid before shipment.