J23 25 Ton Mechanical Sheet Metal Punching Machine is a mechanical device that uses an oil pump to deliver hydraulic oil to generate pressure. The J23 25 Ton Mechanical Sheet Metal Punching Machine is used to process products such as metal, plastic, rubber, wood, powder, etc.
We specialize in the production of sheet metal machines, CNC bending machines, hydraulic shearing machines, V-grooving machines, laser cutting machines, etc. The products have been sold to Germany, the United Kingdom, the United States, Australia, Russia, Italy and other countries, and have been unanimously recognized by customers.
What is Mechanical sheet metal punch?
China XIYUAN 25 Ton Hydraulic Punching Machine J23 Series is a classic and commonly used machine tool, which can be basically divided into hydraulic presses and mechanical presses. Stamping is an essential modern metal fabrication process across industries. China mechanical presses are not only used for sheet metal, but also for various machining operations such as making plastic products and broaching. Mechanical sheet metal punch, including mechanical presses and hydraulic presses, requires a large output force to complete metal processing, such as deforming a sizable sheet of metal. The type of energy source, the way and nature of the energy delivered by the machine press varies, determining the efficiency and output a machine tool can provide.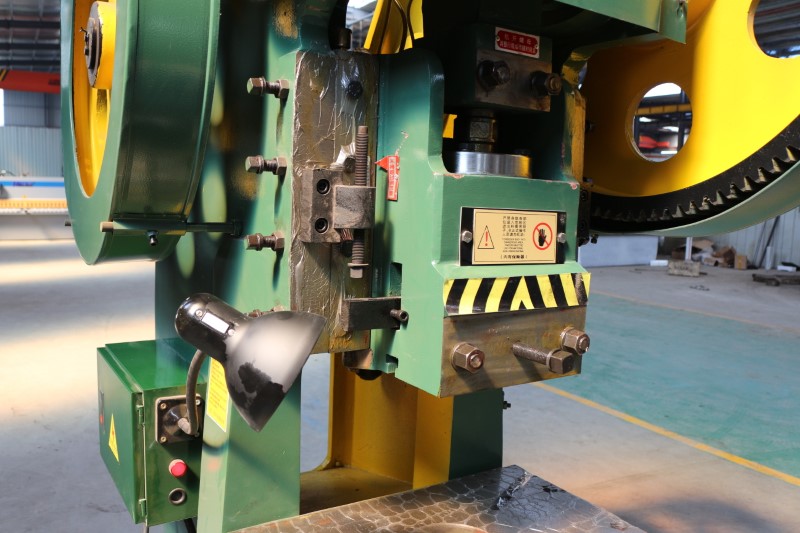 In the Hydraulic Punching Machine J23 Series, the force vector works up and down relative to gravity. In other cases, the same type of machine is installed horizontally, and the workforce is applied to the path perpendicular to the direction of gravity. However, whether the force is applied vertically, horizontally, or at an intermediate angle, a mechanization mechanical press works the same way.
Brief Introduction
In short, the working principle of easy to maintaining Mechanical sheet metal punch is a mechanism that converts the rotational force of the motor into translational force and drives the press to do work. The energy source of the mechanical sheet metal punch is usually the motor. With Mechanical sheet metal punch, there are 3 main steps to complete the metal forming process. The production cycle starts with the material placed on the mold, the sheet metal or other raw material should be left in place for processing. The operator should then manipulate the mechanical sheet metal punch to apply the appropriate pressure to force, shape, or change the raw material as required. The finished product is then ejected from the mechanical machine and collected.
Generally speaking, all parts of China Mechanical sheet metal punch need to be lubricated by an internal system, this easy to maintain system provides a steady flow of lubricant to ensure smooth movement during pressing. Generally speaking, Mechanical sheet metal punch is a large machine tool and can be dangerous to some extent. These operations require workers with proper training and safety procedures. Proper stroke range is also important when using mechanical sheet metal punch for metalworking.
Working Principle
Mechanical sheet metal punch cuts, stamps, forms or assembles metal or other materials using a tool or die attached to a slide or plunger. Metalworking is done by placing the stock on the bottom die and tapping with the top die. The upper die is connected with the crankshaft through the connecting rod, and the rotation of the crankshaft is completed by the motor, the flywheel and the gear transmission.
The combination of pneumatic wet friction disc clutch and brake makes the machine have the characteristics of long service life, low noise and high safety. Both the gear pair and the sliding pair are heat treated, quenched, and precisely ground, with smooth transmission and high precision.
China Mechanical sheet metal punch adopts PLC control mode, and can also be combined with automatic feeding device to form a single-machine or multi-machine automatic stamping production line with high efficiency.
The standard configuration of easy to maintain Mechanical sheet metal punch is two-hand button operation, wet friction disc clutch manufacturing, hydraulic overload protection, adjusting motor, automatic lubrication system (models above 1100KN), and motor adjustment and height control (models above 630KN).
According to different manufacturer's requirements, photoelectric protectors, constant speed motors, air cushions, output shafts or mold protection devices can be optionally installed.
Main features of Mechanical sheet metal punch
25 Ton Hydraulic Punching Machine J23 Series is a general purpose press for cold stamping processes such as forming, blanking, punching, bending, etc.
C-frame cast body, maximum rigidity, and minimum deflection, high precision of parts, and long tool life. The body can be tilted, with high rigidity, small deformation and compact structure. A thick plate and large columns give you the stable platform you need for demanding applications.
A high-performance machine uses a rigid rotary keyed clutch for rigidity and good support. The clutch provides continuous travel for mass production.
The crankshaft is made of special alloy steel with high machining accuracy and is installed in a bronze bushing for smooth operation, longer life and higher precision.
Properly sized flywheel, made of high-quality cast iron, stores and releases enough energy for pressing operations, and is properly balanced to ensure smooth operation.
Gears are steel castings or machined parts. The gear teeth are produced by a precision gear hobbing machine.
The machine is controlled by two-hand button and foot switch: anti-tethering, non-repetitive control, with ring guard; OSHA compliant.
Protective fences and safety interlocks ensure safe operation. With a removable one-hand foot switch, it is easy to operate.
Mechanical sheet metal punch series configuration
Standard configuration
Dry clutch
Hydraulic overload protection device
(GPA 80-260) Electric slider adjustment device (GPA 80-260)
(GPA 45-60) Manual slider adjustment device (GPA 45-60)
Pneumatic grease lubrication device
Slider and die balancing device
Electronic cam controller
Digital die height indicator (unit: 1mm)
Counter
High performance variable frequency speed regulation
Overrun protection device
Double solenoid valve
Programmable controller
Fixed two-hand control button station
Coupling for air blowing
Air source coupling
Mis-sending detection circuit
Main motor inverter group
Operating instructions and precision checklist
Shockproof shaping block
Optional configuration
Side discharge device
Automatic feed axis
Pneumatic die pad device
Gas-liquid mold cushion device
220 single-phase convenience socket
Mold lighting
Foot switch
Can be moved to hand to button station
Preset counter
Safety net
Basics of Robotics
Quick mold change device
Mechanical sheet metal punch operation
The high performance press is equipped with a jog and semi-automatic operation modes.
The stroke is adjusted by the stroke control device.
In addition to completing all the actions of the press, the buttons on the operating table should also have buttons such as "press with both hands", "return," "stop", and "emergency stop".
safety protection
Set the emergency stop button, press the emergency stop button, and the press will stop immediately.
There are limit switches at the upper and lower limit positions of the stroke.
Set up a hydraulic support safety valve circuit in the lower chamber of the piston cylinder to ensure safety. At the same time, a hydraulic interlock circuit is set to ensure that the upper chamber of the master cylinder cannot output pressure when the support safety valve is not opened.
Equipment working environment
Power supply: three-phase 380v 50HZ2, working environment temperature: 0~40℃
China Mechanical sheet metal punch is mainly suitable for drawing, forming, and pressing metal products. It can also process non-metallic materials, pressing of powder metallurgy products, calibration of shaft parts, press-fitting of sleeve parts, and shaping and shaping metal products. Trimming, etc.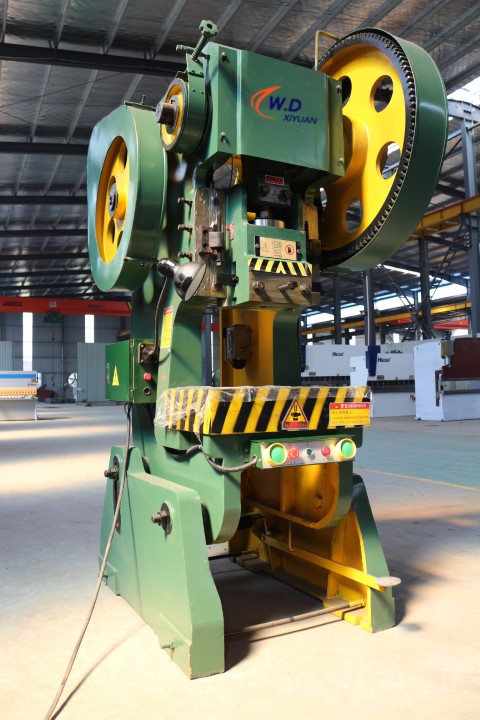 Main features of J23 25 Ton Mechanical Sheet Metal Punching Machine:
J23 25 Ton Mechanical Sheet Metal Punching Machine has independent power mechanism and electrical system; the four-column structure ensures uniform pressure.
 Adopt button centralized control, which can realize three operation modes: adjustment, manual and semi-automatic. The semi-automatic mode has two operations, one fixed stroke and one constant pressure.
The hydraulic control system adopts cartridge valve, which is reliable and durable, with small hydraulic shock, short connecting pipeline and few release points. The hydraulic integrated system adopts an independent control unit.
The operating force, no-load operation, operating speed, and stroke range of the J23 25 Ton Mechanical Sheet Metal Punching Machine can be adjusted according to process requirements.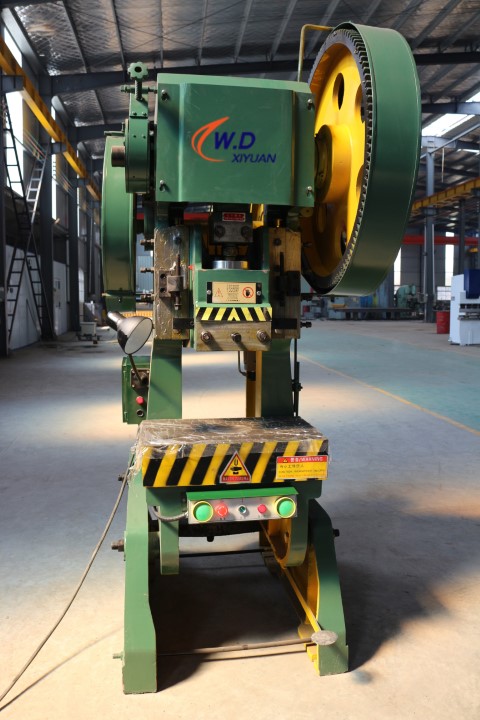 FAQ
1. Are you a J23 25 Ton Mechanical Sheet Metal Punching Machine manufacturer or trading company?
We are J23 25 ton Mechanical sheet meta power press manufacturer.
2. I don't know how to operate the J23 25 ton Mechanical sheet meta power press?
We can send our J23 25 ton Mechanical sheet meta power press engineers to your country, and you can also send your engineers to our factory to learn to operate the J23 25 ton Mechanical sheet meta power press. In addition, detailed installation and operating instructions are included, which are very simple. We provide phone and email support 24 hours a day.
3. How is the quality of J23 25 ton Mechanical sheet meta power press?
Hydraulic company is a mature brand in China, through our 12 years of technical research, our design including structure and details are greatly improved in safety and precision, which can match all CE standards or stricter standards. Our J23 25 ton Mechanical sheet meta power press is distributed in about 50 countries around the world with the sheet metal industry and where our machines are located, with a good reputation and end-user satisfaction.
4. What are your payment terms for J23 25 ton Mechanical sheet meta power press?
We support T/T, L/C, D/P, D/A, Western Union, etc. TT, 30% prepaid, 70% paid before shipment.