Introduce
In China production, the 125 Ton Electric Power Press Machine J21S Series stamping process has the advantages of saving material and energy, higher efficiency than traditional machining, lower technical requirements for operators, and manufacturing products that cannot be achieved by machining through various mold applications, etc. advantage. Its uses are getting wider and wider.
J21S series press is one of the new generation plate making process developed by China XIYUAN Machine Company. Hydraulic shearing machines are used for cutting, punching, blanking, bending and light drawing jobs, and the C-frame provides maximum rigidity and minimum deformation for precise parts and long tool life. Steel welded frame, compact with high rigidity and less deformation. Thick plates and large columns give you the stable platform you need for demanding applications.
The wide-body frame eliminates vibration, increasing service life and the machine, which means economical utility. The operation space is large, and the movable backing plate can be moved out of the frame to set the mold. The structure is simple and the utensils are beautiful.
Hydraulic guillotine shearing machine has high precision, high efficiency, simple and convenient operation, good performance, excellent price and good service.
125 Ton Electric Power Press Machine J21S Series Working Principle
China XIYUAN is a press manufacturer. The original punch is a crank-link mechanism, the motor drives the flywheel, the flywheel drives the large gear through the shaft and the pinion, the large gear drives the crankshaft through the clutch, and the crankshaft drives the connecting rod to make the slider work. The number of strokes per minute of the slider and the movement curve of the slider are fixed. The press can basically be divided into a bed part, a working part, a control part and a transmission part. All components of each part of the China Hydraulic guillotine shearing machine are installed in on the bed. The workshop presses are all general-purpose presses for sheet metal stamping, which can realize various cold stamping processes, such as punching, bending, shallow stretching, etc. This is basically a simple working principle.
Product Highlights Of J21S 125 Ton Deep Throat Electric Press
J21S 125 ton deep throat electric power press series products are ideal equipment for cutting all kinds of angle steel, I-beam, U-beam, right angle or 45 degree angle. The multi-station can simultaneously complete a series of operations such as punching, shearing and grooving on one machine. The double-piston punching and shearing combination machine can be operated by two people at the same time (punching + another station). The one-piece hydraulic valve block from Rexroth, Germany guarantees the stability of the machine, and through the thermal effect of the annealing process, the entire frame can keep its shape forever without deformation. The introduction of imported brand accessories ensures the service life and accuracy of the J21S 125-ton deep throat electric press.
Punching: J21S 125 ton deep throat electric press can achieve effective punching, and the punching die is easy to replace.
 Bar cutting: J21S 125 ton deep throat electric press can quickly cut round steel and square steel. If you want to cut U-shaped steel, I-shaped steel, or T-shaped steel, you only need to replace the cutting blade, and the operation procedure is very simple.
 Angle cutting: Multiple 90° and 45° angles can be cut with the help of special molds.
 Sheet metal bending: It is easy to complete the daily sheet metal bending work by making a bending die.
 Slotting: This machine is equipped with a large slotting cutter head, which can meet your general purpose, and can also customize a special forming cutter head.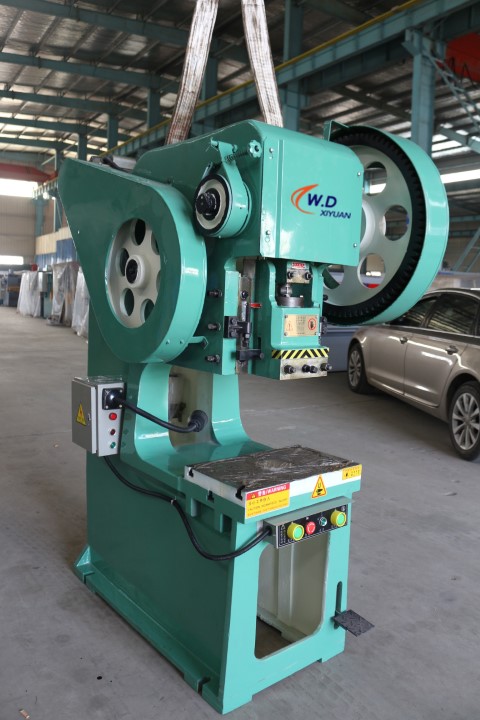 Main advantages Of J21S 125 Ton Deep Throat Electric Press
An imported solenoid valve can effectively ensure the stability of machine operation and minimize the failure rate.
The standard machine configuration is single-action, and the two cylinders cannot work together. (Double valve structure is optional to make 2 cylinders work together)
J21S 125 ton deep throat electric press adopts imported gear pump, which has low noise, small volume, large flow, and stable operation.
Siemens motor has good stability and the failure rate is basically zero. At the same time, it can save energy effectively.
Using Schneider Electric (including circuit breakers, contactors, thermal overloads, small relays, travel switches, buttons), cables are clear and electrical failures are reduced.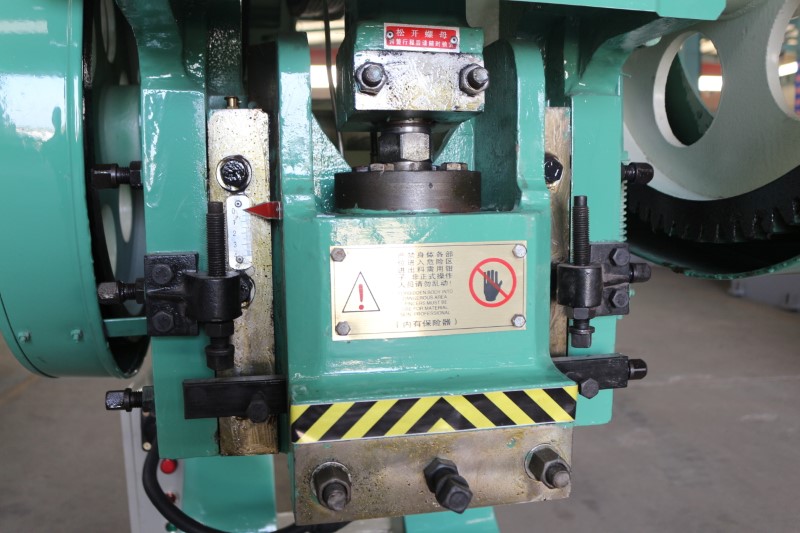 J21S 125 ton deep throat electric press adopts oil cooling device, which can be opened and closed freely according to temperature conditions.
When the temperature is too high, continuous overload work can keep the oil temperature normal and ensure the feasibility of high-pressure and long-term work.
 With three high-pressure oil pipes, this J21S 125 ton deep throat electric press can ensure no oil leakage
The cylinder block of J21S 125 ton deep throat electric press is integrally forged with 40cr high-strength alloy material, and the ductile iron piston guide sleeve is installed without gaps.
 High-temperature resistance (limit 700°C) to prevent overheating for a long time, resulting in deformation of the guide sleeve in the cylinder and oil leakage in the cylinder.
 The J21S 125 ton deep throat electric press has a multi-functional manual back gauge to locate shearing angle, channel steel, round steel, square steel, flat steel and other metal materials within one meter length.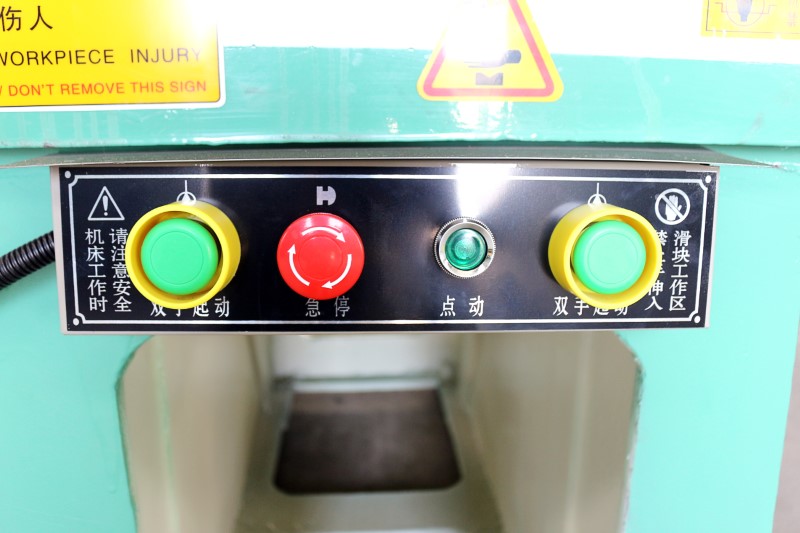 Basic Parameters Of J21S 125 Ton Deep Throat Electric Power Press
Model
Q35Y-16
Q35Y-20
Q35Y-25
Q35Y-30
Pressure(Ton)
60
93
120
160
Max.cutting thickness(mm)
16
20
25
30
Plate strength(N/mm2)
≤450
≤450
≤450
≤450
Cutting angle(degree)
7°
8°
8°
8°
Sheraing size of one stroke(mm)
16*250
8*400
20*330
10*480
25*330
16*600
30*355
20*600
Ram stroks(mm)
80
80
80
80
Number of strokes(cpm)
8
8
6
6
Throat depth(mm)
300
355
400
600
Punching thickness(mm)
16
20
25
26
Max.Punching diameter(mm)
25
30
35
38
Power of main motor(kw)
4
5.5
7.5
11
Overall dimensions(L*W*H)mm
1640*730*1770
1860*800*1900
2355*960*2090
2680*1040*2300
Weight of machine(kg)
1600
2000
4800
6800
125 Ton Electric Power Press Machine J21S Series Main Features
Deep throat design, can place large stamping dies, and the working area is larger than that of ordinary power presses.
Hydraulic guillotine shearing machine adopts rigid turnkey clutch and press has single or continuous operation standard.
China XIYUAN is used as a press manufacturer, and the punch press adopts a single brake. The slider is equipped with a push-down safety device.
Adopt international brand PLC control. The machine has the advantages of high versatility, high precision, reliable performance and convenient operation.
Welded body with steel plate and deep throat.
Larger throat depth, suitable for cold stamping of larger sheets.
Simple structure, good versatility, easy maintenance and operation.
C-shaped body, convenient for the processing of large-sized material molds
Hydraulic guillotine shearing machine casting body, stable performance.
The crankshaft is placed horizontally, which is convenient for maintenance.
Rigid clutch, simple structure.
Combined dry pneumatic friction clutch and brake.
Rigd push-down overload protector.
Hydraulic swing beam shear adopts digital display electric closing height adjustment.
China Hydraulic guillotine shearing machine adopts double safety valve to ensure the accurate execution of clutch command. The electrical control is equipped with PLC, 8 groups of cam controllers, and the action is reliable.
Adopt dry friction clutch and brake pneumatic combination, rigid interlock, friction material semi-metal friction material SMFM-88 is reliable, less pollution and long life.
It has the characteristics of large transmission torque, small moment of inertia, stable transmission, flexible operation, convenient installation and maintenance, etc.
The mold height of the slider is adjusted manually, and the scale is displayed. It is extended by four triangular guide rails for easy adjustment.
125 Ton Electric Power Press Machine J21S Series main products include
1.General machinery
Mechanical press
Band saw
2.Special machinery
Processing equipment powder of rubber, plastic, chemical raw materials, crude drug, tobacco, food, sawdust, wood, and non-metallic substances.
Screen printing machinery.
Artificial intelligence climate cabinet, plant accelerator, controlled environment room, humidity room, climate room, artificial room, seed germination device, mold incubator, laboratory incubator, drying cabinet, constant temperature tank, temperature controller.
Ballpoint pen production line, gel pen machinery.
Incense processing machinery and packaging machine.
Ice cream machinery.
125 Ton Electric Power Press Machine J21S Series Applications
It is suitable for blanking, punching, forming, bending and plane stretching of punching functions.
Widely used in electrical components, instrumentation, tool hardware, toys, automobiles, machinery, agricultural equipment.
A Special order for the joist and channel moulds needed
Profile
Round Bar
Square Bar
Equal Angle
T-Bar
joistq
Channel
90°Shearing
45°Shearing
90°Shearing
45°Shearing
Section View

Q35-16
45
40*40
125*125*12
100*100*10
125*125*12
100*100*10
180*94*6.5
180*68*7
Q35Y-16
45
40*40
125*125*12
50*50*5
120*120*12
60*60*8
126*74*5
126*53*5.5
Q35Y-20
50
50*50
140*140*12
50*50*5
140*140*12
70*70*10
160*86*8
160*60*6.5
Q35Y-25
60
50*50
160*160*14
50*50*5
160*160*14
80*80*10
200*102*9
210*75*9
Q35Y-30
65
55*55
180*180*16
60*60*6
180*180*16
80*80*10
280*124*10.5
280*86*12