Introduction
China XIYUAN 160 Ton General Open Back Press With Fixed Bed J21S Series is a suitable open type deep throat electric punching machine with a left and right hollow body (i.e. C-shaped body). Steel plate welded body, good shock absorption performance, novel overall design, beautiful appearance. Its throat has some depth—compact structure, easy to use and safe to operate. The punch is equipped with a turnkey rigid clutch, cam-band brake, and push-down safety. The worktable is open on three sides, convenient for loading and unloading moulds and operation.
The overall structure of 160 Ton General Open Back Press With Fixed Bed J21S Series
C-frame provides maximum rigidity, minimum deflection, and long tool life for precision parts—steel welded frame, high rigidity, small deformation, and compact. A thick plate and large columns give you the stable platform you need for demanding applications.
Swing beam shear wide body frame eliminates vibration, improves IDE life and machine, economical and practical. The operation space is ample, and the movable backing plate can be moved out of the frame to set the mold. The structure is simple, and the utensils are beautiful.
Swing beam shearing machine has high precision, high efficiency, simple and convenient operation, good performance, excellent price, and good service.
 Transmission control and braking system
The electric shearing machine adopts dry friction clutch and pneumatic brake combination, rigid interlock, reliable friction plate, semi-metal friction plate SMFM88, less pollution, and long life. It has the advantages of large transmission torque, tiny moments of inertia, stable transmission, flexible operation, convenient installation and maintenance, etc.
The slider dies height is adjusted manually, and the scale is displayed. Extended by four triangular rails.
Swing beam shear adopts double safety valve to ensure the accurate execution of clutch command.
The electrical control is equipped with PLC, and eight groups of cam controllers, and the action is reliable.
The electrical control adopts Omron PLC centralized control to improve the reliability of the machine.
Proximity switch composed of 6.8 groups of Schneider cam controllers, reliable synchronous detection and monitoring.
The China 160 Ton General Open Back Press With Fixed Bed J21S Series machines use two-hand buttons and footswitches for continuous, single-point and jog exercises.
The RAM can move up slowly, which is convenient for the operator to control the mold adjustment.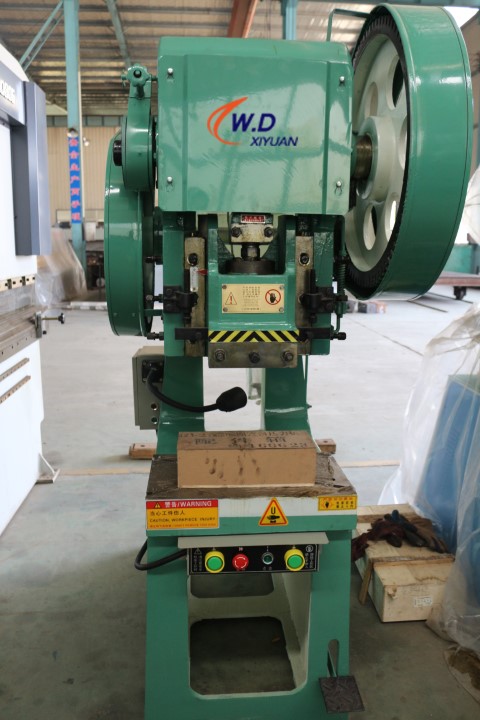 RAM adjustment and structure
Swing beam shear stroke adjustable machine, the slider stroke reaches a certain level within the adjustable range, the body steel plate welded structure, the overall tempering, the use of secondary transmission, the crankshaft of the transmission part is placed horizontally, the flywheel gear is externally open, maintenance convenient.
The sliding block is of cast box structure with good rigidity. The sliding block collapse type is equipped with a pressure overload protection device, which has a simple structure. When the sliding block is overloaded, the fuse is blown and damaged, which protects the machine tool and mold from damage.
Main performance characteristics of Customized in China deep throat press machine
A band brake is easy to adjust.
A large throat is suitable for large workpieces.
Simple structure, easy maintenance and operation.
Deep Throat Press Machine Structure
"C"-shaped frame, the body can be tilted, which can easily slide materials and scrap.
Cast iron body, stable performance.
Horizontal crankshaft, easy maintenance.
Rigid rotary essential clutch, simple structure.
Rigid push-down overload protector to avoid overload damage.
 Deep Throat Press Machine Application
Suitable for blanking, punching, forming, bending, and plane stretching of punching functions
Widely used in electrical components, instrumentation, tool hardware, toys, automobiles, machinery, agricultural equipment
 Electrical system and safety interlocks
Electrical components are imported or Sino-foreign joint ventures, in line with international standards, safe and reliable, long life, strong anti-interference ability, the electrical cabinet is equipped with radiation units.
Guardrail and safety interlock to ensure safe operation. With a removable one-hand foot switch, it is easy to operate.
China 160 Ton General Open Back Press With Fixed Bed J21S Series machine has passed EU CE and ISO quality system certification.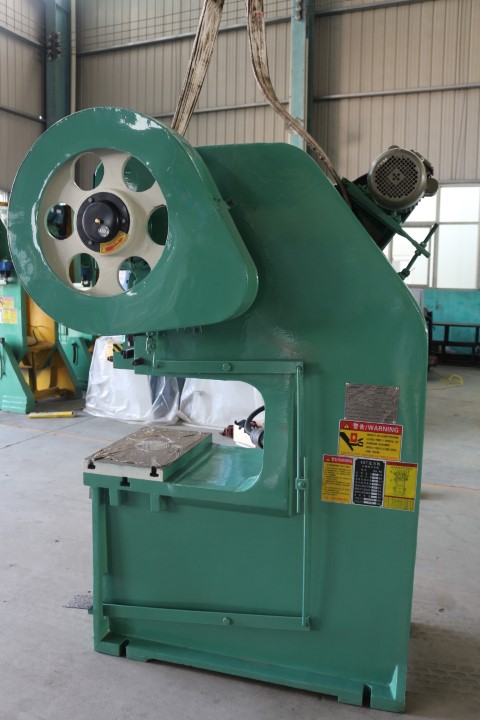 Product Highlights Of J21S 160 Ton Deep Throat Electric Punching Machine
J21S 160 Ton Deep Throat Electric Punching Machine adopts portable angle steel flange production line, which is mainly used for punching of duct angle steel flanges (30-50 angle steel). Both the tool and die are made of Japanese SKH51, which is fast and accurate. The newly designed die can complete the angle change within 5 seconds, and the punch is durable.
Basic Configuration Of J21S 160 Ton Deep Throat Electric Punching Machine
Built-in 1.5kw/3KW electric pump (two motors are optional): about 30L large-capacity oil tank, need to inject 46# hydraulic oil, divided into three oil pipes, J21S 160T Deep Throat Electric Punching Machine can connect three hydraulic equipment at the same time.
High pressure hydraulic ball valve: suitable for cutting off, distributing, and changing the flow direction of media in various pipelines of hydraulic systems and chemical systems.
Console dashboard: simple operation, easy to use, built-in Chint control transformer.
J21S 160T Deep Throat Electric Punching Machine has a shock-proof pressure gauge, which can effectively avoid the impact caused by vibration, and the indication of the pressure gauge is stable and clear.
360° swivel caster: Belt brake design, can fix the caster, J21S 160T Deep Throat Electric Punching Machine has more work flexibility.
Product Parameters Of J21S 160 Ton Deep Throat Electric Punching Machine
Corner cutting ability: the thickness of angle iron≤5mm
Cutting capacity: angle iron thickness≤5mm
Punching capacity: angle iron thickness≤5mm
Die: Standard die has Scope of application: J21S 160T Deep Throat Electric Punching Machine is widely used in the production and processing of angle iron flanges, and multi-processing of 5 angle irons
Motor power: 1500W/3000W (two kinds of power optional)
Input voltage: single-phase 220V; three-phase 380V (two voltages optional)
Product size: 520*520*800mm
FAQ
1. Are you J21S 160 Ton Deep Throat Electric Punching Machinemanufacturer or trading company?
We are J21S 160 Ton Deep Throat Electric Punching Machine manufacturer.
2. What shall we do if don't know how to operate J21S 160 Ton Deep Throat Electric Punching Machine?
We can dispatch our engineers to your country and you can also send your engineers to our factory for learning operation. Besides, there are detailed installation and operating instructions attached, it is very simple. We have telephone and email support at 24 hours per day.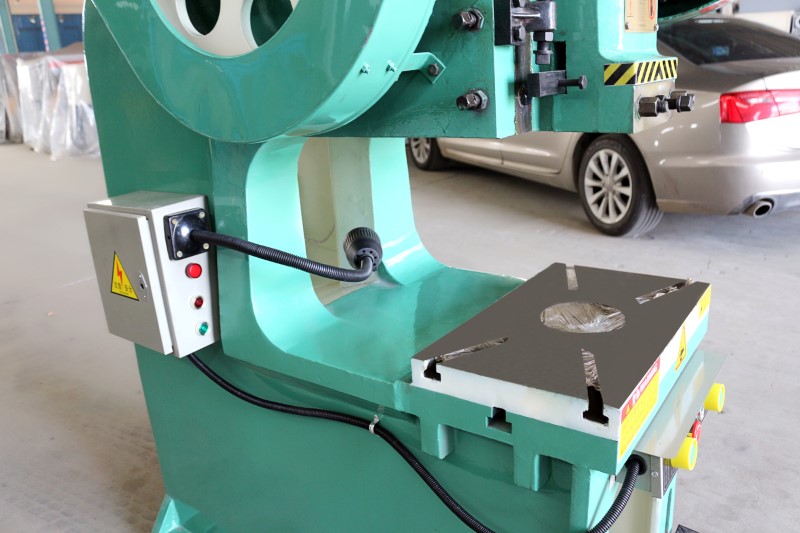 3. How aboutJ21S 160 Ton Deep Throat Electric Punching Machine quality?
Hydraulic company is a mature brand in CHINA, through our 12 years research in technology, our design including structure and detailed security and precision has enhanced greatly, and can match all the CE standard or more strict standard. Our J21S 160 Ton Deep Throat Electric Punching Machinedistribute worldwide to about 50 countries where there is metal plate industry And where there are our machines, there are good reputation and terminal user satisfaction.
4. What are yourJ21S 160 Ton Deep Throat Electric Punching Machinepayment terms?
We support T/T, L/C, D/P, D/A, Western Union, and so on. TT, 30% in advance, 70% balance before the shipment.