XIYUAN offers the largest variety of customizable, high-precision, easy-to-operate profile bending machines, hydraulic bending machines, and sheet metal bending machines on the market. XIYUAN continues to utilize new technological advancements and innovative brake press designs to meet the ongoing needs of OEMs, manufacturers, and fabricators in the sheet metal manufacturing industry.
With the xi yuan profile bending machine, you get superior quality from programming to production, simple machine programming, powerful, state-of-the-art programming software, and unparalleled training and local xiyuan profile bending machine support.
Product Description Of  WC67K  Sheet Metal Press Brake Bending Machine With TP10
xiyuan profile bending machine - smart, accurate, profitable.
Bending technology that satisfies the highest requirements due to the precise processing of bent parts through automatic cleaning of the bending table.
Modular design increases flexibility with additional options.
Unrivaled speed and productivity in sheet metal bending.
The unique dynamic convexity and patented pressure reference technology of the Xiyuan Profile Bending Machine With Tp10 Wc67K Series provide maximum repetition accuracy and consistency from the start.
Intuitive user interface for fast processing of single orders and large order lists. Classic, performance and dynamic versions are available.
 Our Xiyuan profile bending machine with Tp10 Wc67K Series has a full range of performance options.
Intelligent assistive functions guarantee bending results with the highest precision and minimum number of operating steps.
Offline programming and simple data import without interrupting the running production process.
The intuitive, easy-to-operate user interface, powerful control software, and offline programming
Precise and error-free positioning of tool sets, xiyuan profile bending machine increases the versatility of bending applications
xiyuan pro 150 with mobile bending unit.
xiyuan profile bending machine bending center for fully automatic sheet metal processing.
The modular design of the bending unit is highly available and can be completely.
Error-free automatic sheet metal processing. The ideal choice for processing.
The job list and different jobs, Xiyuan Profile Bending Machine, has everything from small batch to large batch
series.
High load capacity provides maximum flexibility and precision.
It is an affordable hydraulic press brake with impressive features and options. Equipped with the advanced ESTUN E21 NC controller, this is a simple NC control system. Control the X-axis line to be in place accurately.
Features Of WC67K Sheet Metal Press Brake Bending Machine With TP10
As a first-class laser product, WC67K Sheet Metal Press Brake Bending Machine With TP10 is eye-safe;
 Set up L-shaped protective beam near the die tip on the bending machine,
The beam should move parallel to the upper die;
Provide complete functional design to meet security protection requirements
Bending machines for processing parts of different shapes;
 With independent controller system, also suitable for bending machines without editability;
WC67K Sheet Metal Press Brake Bending Machine With TP10 has high resistance to electromagnetic interference and light interference.
ESTUN E21 CNC System
 Backgauge control
Control common motors or frequency converters
 Smart positioning
 Hold pressure unloading time setting.
 Workpiece count
Stores 40 programs with 25 steps each
 Unilateral positioning
 Concession feature.
One-click backup/restore. mm/inch
 Chinese English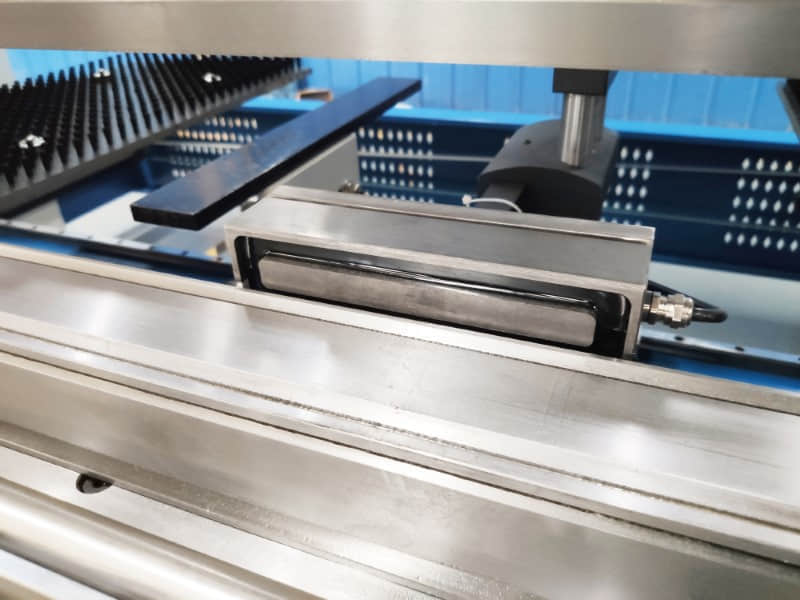 Over 15 Years Of Top Control Experience
 All European-style streamlined design, heat treatment frame, high rigidity table,
Optional mechanical compensation device, WC67K Sheet Metal Press Brake Bending Machine With TP10 enables precise bending.
Hydraulic synchronous control and Estun NC programmable controller to ensure
Accurate repeatability and ease of use.
 The integrated hydraulic system allows automatic switching to slow down the corners in a fast manner.
 X-axis and Y-axis realize precise positioning function through frequency converter
Controlled by NC E21 system programming.
Cutting-edge frequency response hydraulic control technology, WC67K Sheet Metal Press Brake Bending Machine With TP10 is more stable and more reliable in operation.
The best parameter ratio, optimized core configuration, to ensure stable performance.
Operation is more convenient.
WC67K Sheet Metal Press Brake Bending Machine With TP10 adopts standard uniaxial back gauge system and uniaxial bending angle
system, you can choose to add V-axis compensation function, and choose
Hydraulic Quick Clamping System Advantages
 Safe and fast tool change
Can be used without modification of European style punches
 Front clamp - vertical tool change
Back clamp - horizontal tool change
SDKELI Laser Safety
The sensor can be used alone with the press brake system. 3 laser beams correspond to 6 channels of OSSD output, each laser beam can provide two ways
Independent safety output, the output form is PNP.
In the ON state when light is transmitted, it outputs a high level; during the illumination period, it is output low level in OFF state. After removing the shading object, OsSD will Automatically enter the ON state.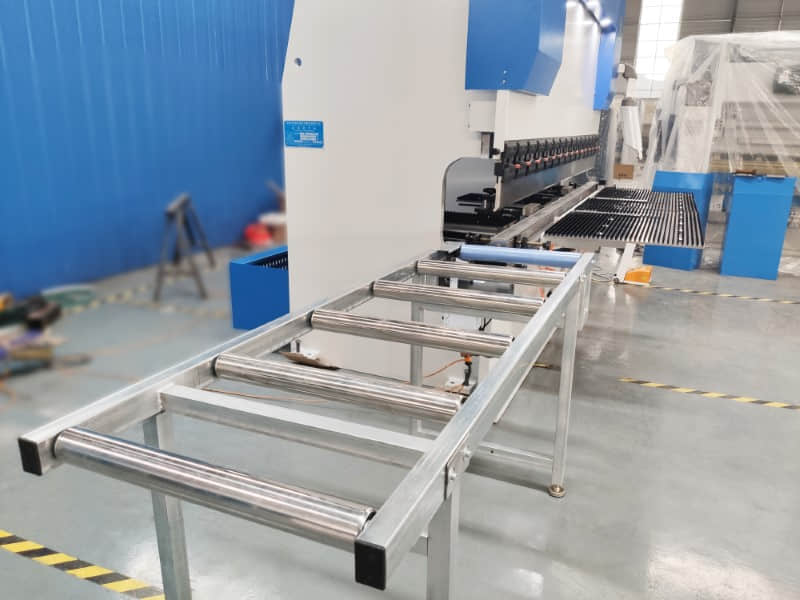 Hydraulic Siemens Main Motor
The advantages of using servo motors over traditional stepper motors include:
Improves accuracy to ‡ 0.01mm, reduces noise to 25dB, reduces energy
Fuel consumption is reduced by 60%, hydraulic oil consumption is reduced by 70% and efficiency is increased by 30%.
Kaikang Foot Switch
The Kacon HRF-HD3N medium duty foot switch has a 1 NO + 1 NC contact arrangement with momentary operation and a die cast aluminium housing. Features Integrated Z-Type
Micro Switch. Rated IP 65. Action: Depress the pedal to turn the switch on, then release to turn it off.
Product Specifications
 Switch Dimensions - 100mm Wx211mm Lx 125mm H
Foot switch operation - momentary
Contact arrangement - 1 NO + 1 NC
 Rated Current - 15A, 250V AC
Integrated switch - Z-type microswitch (CE certified)
Housing Material - Die Cast Aluminum
 Cable - 1/2" Tap Flexible Cable (Zinc Connector 10-16)
Protection class - IP 65
 Certifications - UL and CUL recognized, CE