Less waste and less maintenance
 High performance
Same job, 50% less energy
High dynamic Y-axis control
Productivity increased by more than 30%
CNC DELEM DA53T 2D color graphics
ACCURL® BGA-2 for X=500mm X,R-Axis
 Kit: 4 V die (V=16-22-35-50) series 835mm punch
 ACCURL Pro Manual Wave Crowning System
GIVI Optical Scale
 Lazer Safe Dual Beam Photocell
HOERBIGER (HAWEI) hydraulic system
High-efficiency motor – IE3 class
Electrical cabinets of Schneider and Siemens components
The basic composition of CNC Hydraulic Guillotine Shear
The basic components of 4×2500 CNC Hydraulic Shearing Machine and 6×4000 CNC Guillotine Shearing Machine include machining program, input device, CNC system, servo system, auxiliary control device, feedback system and machine body. The processing program can be written manually, and the complex processing requirements can be drawn on the computer and then generated. The input of the program can be manually input through the numerical control system panel, transmitted through the cable through the computer communication port, or transmitted through the computer USB interface.
Specific accessories of CNC Hydraulic Guillotine Shear
First, there are some accessories in the circuit, which generally include: various buttons, indicators, control contacts etc., transformers, switches, motors, etc.
The second is the hydraulic system accessories of the hydraulic guillotine shearing machine. Generally, there are oil pump, valves of various specifications, pressure gauges and their switches, level gauges, oil pipe fittings, seals, etc.
Finally, there are other mechanical accessories of the hydraulic guillotine shearing machine, including blades, bearings, tool holders, bolts of various types and specifications, gears, optical rods, etc.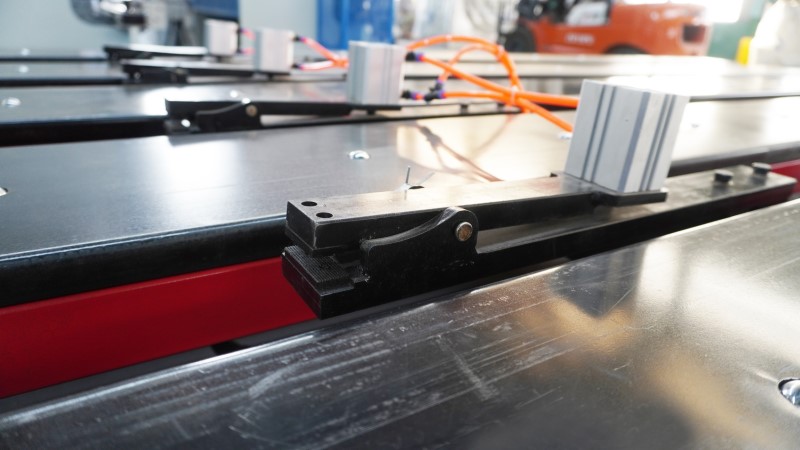 Heat treatment process
Qc12k Swing Beam Cutting Machine With E21s Sheet Bending Machine and Laser Cutter Steel frames are over 600⁰ annealed to relieve stress, they will not deform after years of heavy use.
mechanical process
The frame is heat treated to relieve welding stress. The Qc12k Swing Beam Cutting Machine With E21s Sheet and Laser Cutter Frame is machined on a 5-axis CNC machining center with single reference fixation. This keeps all axes parallel and the machine surface is precise, giving the machine extreme precision and longevity.
CNC Hydraulic Guillotine Shear  Engineering Design
Hydraulic has extensive experience in developing and designing components with very tight tolerances using SOLIDWORKS 3D CAD modeling technology, and Hydraulic engineers are competent in the first-principles computational design of the Qc12k Swing Beam Cutting Machine With E21s Sheet. The design and analysis experience of computer-aided engineering (CAE) for heavy industry is novel to traditional companies in preparation for the implementation of the Fourth Industrial Revolution.
Finite Element Analysis and Stress Analysis
The CAE software SOLIDWORKS is used as a method for analyzing the linear static structure, stress, and deformation of the frames of press brakes and laser cutters. Therefore, for complex structures, highly complex loads, transient modeling, and combinations of the above, FEA makes sense.