China XIYUAN as Pneumatic punching punch manufacturers, China XIYUAN JH21 200 Ton Pneumatic Hole Punch Press Punching Machine is suitable for hardware stamping, punching, bending, cutting, forming, and other processes, widely used in home appliances, electrical appliances, auto parts, furniture hardware accessories, motorcycle accessories, and other industries. Small size, CE-compliant safety electronic control system, easy-to-control HMI and panel.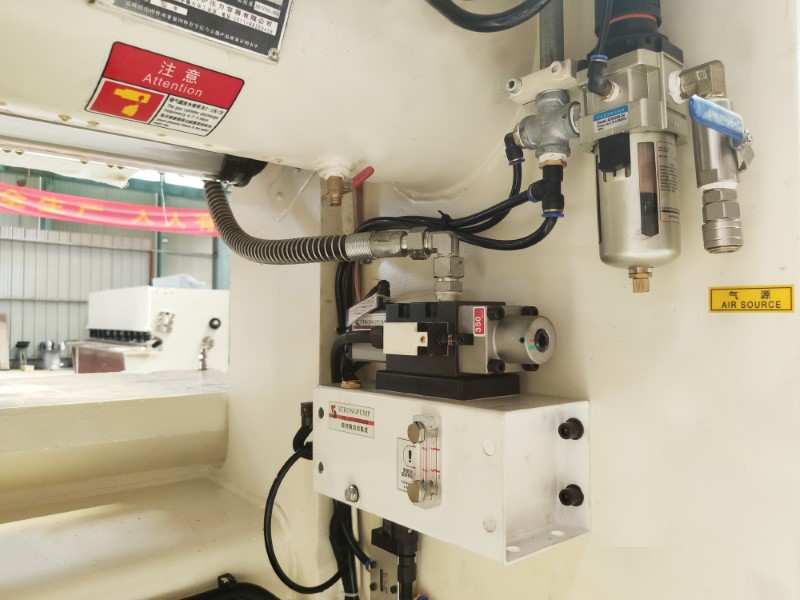 Product principle
China XIYUAN as Pneumatic punching punch manufacturers, products, or parts produced with mechanical punching or hydraulic machine tools is called stamping parts. Its basic elements include stamping power, male mold, female mold, and raw materials of the product (usually metal sheets or wire).
Under stamping power, China machine tool drives the opening and closing of the male die and the female die, and the process of cutting, punching, and stretching the raw materials between them is called the working principle of stamping machine tools.
China XIYUAN is a Pneumatic punching punch supplier. The mechanical punching machine is also called the automatic punching machine. It uses the airless air pump's compressed air to enter the cylinder through the solenoid valve. It drives the piston to drive the main shaft to form a downward movement, thereby creating an impulse so that the workpiece has a specified deformation in the mold to achieve the purpose of processing. To facilitate the use of customers, and electrical control part is also added to the device. In this way, people's work efficiency is greatly improved.
Introduction to the structure of China JH21 200 ton pneumatic punching press
China XIYUAN is a Pneumatic punching punch manufacturer; the frame is welded by the whole steel plate, with high rigidity, reasonable structure, and beautiful design.
The press adopts a vertical crankshaft structure. The fulcrum distance is short, and the crank is rigid.
The press adopts the Italian low-inertia combined wet friction clutch and brake produced by Shanghai OPPEIN, with small passive inertia, low energy consumption, reliable grip, brake interlock, and long service life.
The sliding block is an integral mold structure and adopts the Japanese Showa hydraulic overload protector, which is flexible and reliable in action. It can be reset automatically after overloading, reducing downtime and improving the utilization rate of the press. The sliding high-pressure cylinder is equipped with a high-pressure oil seal imported from Germany.
The closing height adopts electric adjustment and a digital display. It is shown as 0.10mm. The press adopts a hexahedral rectangular elongated arm, which has high guiding and stable precision. The press has a pneumatic balancer to reduce the second stroke. Smooth operation improves the dynamic accuracy of the media.
As a Pneumatic punching punch supplier, China XIYUAN adopts Mitsubishi PLC for the control part to ensure the reliability of the control part efficiently.
The press adopts Japan TACO double valve to ensure the safety and reliability of the clutch.
The press adopts a cam controller combined with a proximity switch. It can precisely send signals in the range of 360°, control the standard of various actions and the coordination of auxiliary machines, and improve the reliability of the press. Additionally, the press features two-hand operated buttons and a foot switch for continuous, single, and inch modes.
Performance and main technical parameters
Steel plate welded high rigidity body.
Fixed stroke times.
Combined wet friction clutch.
Rectangular six-sided extended guide rail or CP1-315B/400B eight-sided extended guide rail.
Hydraulic overload protection device.
CP1-25/45 manual mode adjustment, scale indication.
CP1-45 can be equipped with electric mode adjustment and digital display.
Optional air cushion (airbag or cylinder type), photoelectric protection device, and frequency conversion speed regulation can be matched with various automation equipment.
CP1-63 and above electric mode adjustment, digital display.
Lift-up balancing cylinder device.
China XIYUAN is a Pneumatic punching punch manufacturer, importing double solenoid valves.
Electric thick oil forced lubrication system.
The balance cylinder adopts a manual thin oil lubrication system.
Integrated panel (including electronic cam).
International brand PLC control.
International brand contacts and buttons.
Equipped with a set of blowing devices.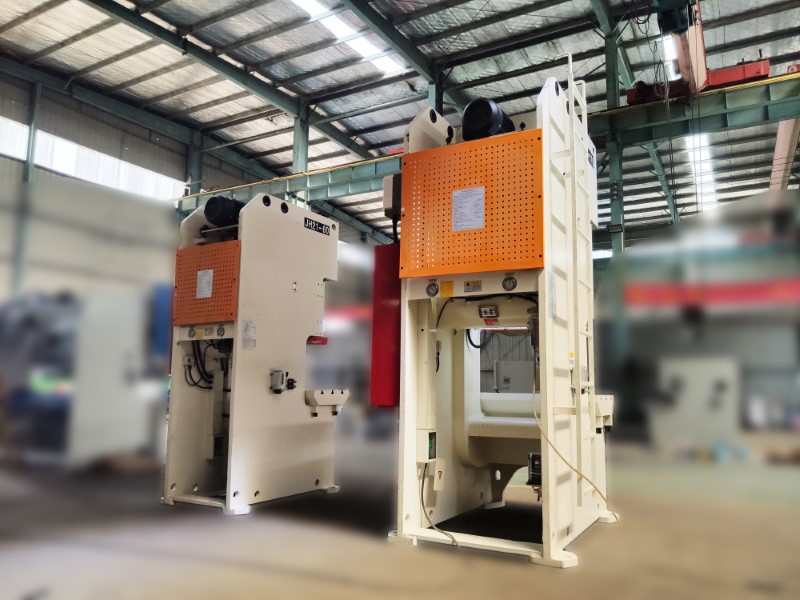 JH21 200吨气动冲孔冲床主要特点
电脑优化结构设计,3梁4柱结构,简单、方便、刚性好。
一体式焊接钢架、回火、VSR(Vibration Stress Relief)等以缓解内应力。
二通插装阀集成液压控制系统,工作可靠,使用寿命长,液压冲击小,可减少JH21 200吨管路泄漏点
气动打孔机冲孔机。
液压系统设有预泄压装置,JH21 200吨气动冲孔机冲孔机液压冲击小。
独立的电控系统:可靠、直观、易于维护。
JH21型200吨气动冲孔机采用按钮集中控制,采用手动或半自动调节。
滑块工作压力,快降怠速,慢压行程可根据工艺要求调整。
控制台控制,JH21 200 吨气动孔冲床冲床上滑轨,带免润滑滑动系统。
Introduction to the performance and advantages of JC21Y series vertical hydraulic punch
This machine tool is mainly responsible for punching, bending, shearing, pressing, leveling, time pressing, stretching, and forming various thickness plates (0.1mm-20mm). The precision of mold adjustment reaches 0.1mm, which is safe, convenient, and reliable.
Adopt soft in-position punch technology to improve product quality and mold life; intelligent control to ensure the accuracy and safety of machine operation and stop; with adjustment, automatic, semi-automatic (can be divided into fixed-stroke single and fixed-pressure single two processes) three modes of operation.
The slider's working pressure, the no-load fast descending travel range, and the slow working advance can be adjusted according to the process needs.
The design of the machine structure is reasonable, which is convenient to realize automatic production, reduce costs and improve efficiency.
Advanced design concept, low voice, low consumption, energy saving, and environmental protection.
Implementation of safety standards
China XIYUAN, a Pneumatic punching punch manufacturer, heavy duty one-piece welded steel frame is designed to resist deformation, providing more precise punching parts and longer die life. The fast-responding hydraulic overload relieves the pressure of the tonnage overload in milliseconds, stopping the press immediately and protecting the press and die from damage. Wet clutches and brakes provide long life, extremely low maintenance, and high performance even at high single stroke rates.
Safety light curtain:
Guard rails and safety interlocks ensure safe operation. With a removable one-hand foot switch, it is easy to operate.
Front cover with safety switch, backlit safety guard (category 4), CE compliant footrest.
electronic system:
The electrical components are imported or Sino-foreign joint ventures, in line with international standards, safe and reliable, long life, strong anti-interference ability, the electrical cabinet is equipped with a radiation unit.
Pneumatic clutches and brakes:
Wet clutches and brakes provide long life, low maintenance, and high performance even at high single stroke rates.
China XIYUAN, as a Pneumatic punching punch supplier, adopts Japan's TACO double valve to ensure the safety and reliability of the clutch.
automatic lubrication system:
The press is equipped with an automatic lubrication pump for easy maintenance. You can set the lubrication cycle time via the touchscreen.
Control button station:
The machine is controlled with two-hand buttons and footswitches: anti-tethering, non-repetitive control, with ring guard; OSHA compliant.
JH21 200吨气动冲孔机标准配件
欧姆龙PLC控制。
德国博世力士乐集成液压阀。
德国EMB油管接头和高压胶管。
德国西门子主电机。
德国施耐德电气。
液压和电动过载保护。
移动控制台。
 JH21 200吨气动冲孔机冲床安全标准
安全标准 (2006/42/EC)。
具有门到门断电功能的电柜和前面板。
金属安全围栏,CE 标准。
安全继电器监控脚踏开关,JH21 200吨气动冲孔机带安全保护。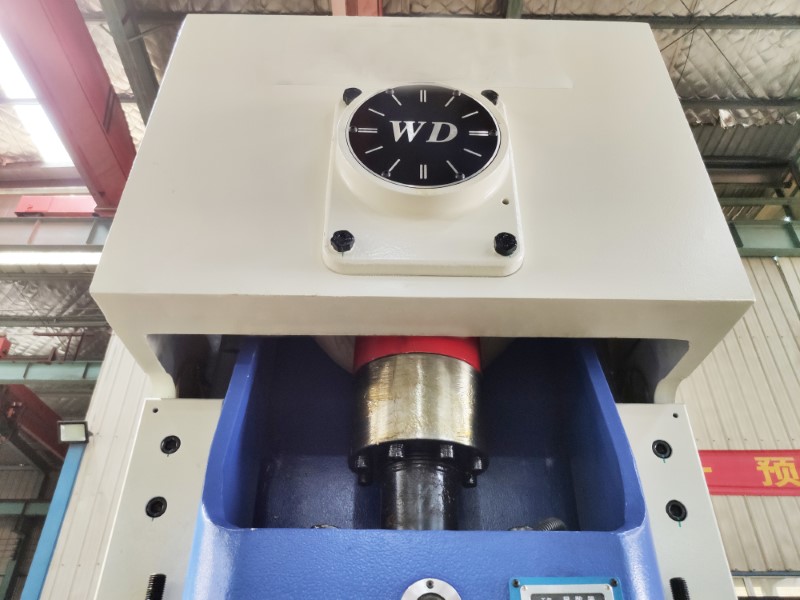 主要特点
采用可倾斜的铸造结构,机身可以倾斜,使冲压工件或废料从模具中滑落。
使用刚性交钥匙离合器,压力机具有单一或连续操作标准。
冲床采用单式制动器。滑块设有下压式安全装置,可下压以保护整机。
避免因压力过大而损坏。
该机具有通用性高、精度高、性能可靠、操作方便等优点。