Introduction of 1500W CNC tube fiber laser cutting machine
The laser equipment of the China 1500W CNC tube fiber laser cutting machine factory can do both plane cutting and bevel cutting, and the edge is neat and smooth. It is suitable for high-precision cutting of metal sheets, etc. At the same time, the robot arm can perform three-dimensional cutting instead of the original imported five-axis laser. Compared with ordinary CO2 laser cutting machines, it saves space and gas consumption and has a high photoelectric conversion rate. It is a new energy-saving and environmentally friendly product and one of the world's leading technology Sheet metal cutting machines.
Main features
The optical conversion efficiency of fiber lasers is high, and the conversion efficiency reaches more than 30%. Low-power fiber lasers do not need to be equipped with a chiller and air cooling, which can significantly save power consumption during work, save operating costs, and achieve the highest production efficiency;
The laser only needs electric energy to operate, does not need to generate additional gas from the laser, and has the lowest operating and maintenance costs;
Sheet metal cutting machine cutting machine.
The fiber laser adopts a modular and redundant semiconductor design with no optical lens in the resonant cavity and n start-up time. It has the advantages of no adjustment, no maintenance, and high stability. Quality 1500W CNC tube fiber laser cutting machine reduces the cost of accessories and care time, which is unmatched by traditional lasers;
The output wavelength of the fiber laser is 1.064 microns, which is 1/10 of the CO2 wavelength. The output beam quality is good, and the power density is high, which is very conducive to the absorption of metal materials, and has excellent cutting and welding capabilities so that the processing cost is the lowest;
Optical fiber transmission of the whole machine does not require complex light guide systems such as mirrors. The optical path is simple, the structure is stable, and the outer visual way is maintenance-free;
The cutting head contains protective lenses so that valuable consumables such as focus lenses consume very little;
Light is exported through optical fiber, which makes the design of mechanical systems straightforward and easy to integrate with robots or multi-dimensional workbenches;
After the laser is added to the light gate, it can be divided into multiple channels and multiple machines at the same time through optical fiber, which is easy to expand functions, and easy to upgrade;
 The thick plate plasma cutting machine adopts CNC numerical control system, fully offline work, humanized operation.
Compatible with CorelDraw, AutoCAD, Wentai and other software.
 It has the functions of power failure, continuous cutting at breakpoints, prediction of processing time, automatic tool setting, etc.
 Equipped with infrared positioning device to ensure processing accuracy and repeated positioning.
Linear guides ensure that the cutting of the workpiece is small and neat, with high precision and no slag.
 It can be equipped with American Hypertherm plasma source and other plasma sources according to customer requirements.
The processing advantages
 High precision, fast speed, narrow cutting seam, minimal heat-affected zone, the smooth and burr-free cutting surface of Sheet metal cutting machine.
The laser cutting head will not touch the material's surface and will not scratch the workpiece.
The slit is the narrowest, the heat-affected zone is the smallest, the partial deformation of the workpiece is minimal, and there is no mechanical deformation.
 Good processing flexibility; can process any graphics, cut pipes, and other unique profiles.
It is possible to cut materials of any hardness, such as steel plates, stainless steel, aluminum alloy plates, cemented carbides, etc., without deformation.
 Quality Sheet metal cutting machine has high cutting precision: the positioning accuracy of the laser cutting machine is 0.05mm, and the repeat positioning accuracy is 0.03mm.
 The cutting surface of the laser cutting machine is smooth: the cutting surface has no burrs, and the roughness of the incision surface is generally controlled within Ra6.5.
The laser cutting machine is fast: the cutting speed can reach 10m/min, and the maximum positioning speed can get 30m/min, which is much quicker than wire cutting.
The laser cutting machine has good cutting quality: non-contact cutting, very little affected by heat, basically no thermal deformation of the workpiece, altogether avoiding the collapse formed when the material is punched and cut, and the cutting seam generally does not require secondary processing.
No damage to the workpiece: The laser cutting head will not touch the material's surface to ensure that the workpiece is not scratched.
It is not affected by the shape of the workpiece: laser processing has good flexibility. CNC tube fiber laser cutting machine can process any graphics and cut pipes and other unique profiles.
The laser cutting machine can cut and process a variety of materials: such as plastic, wood, PVC leather, textiles, plexiglass, etc.
 Save mold investment: CNC tube fiber laser cutting machine does not need molds for processing, no mold consumption, no need to repair molds, and saves time for changing molds, thus saving processing costs and reducing production costs; especially suitable for processing large products.
 Material saving: Using computer programming, a Sheet metal cutting machine can cut products of different shapes to maximize the utilization rate of materials.
Improve the speed of sample delivery: After the product drawing of the CNC tube fiber laser cutting machine factory is formed, laser processing can be carried out immediately, and the new product can be obtained in the shortest possible time.
Safety and environmental protection: laser processing has less waste, low noise, is clean, safe, and pollution-free, which significantly improves the working environment.
 Maintenance methods
The bifocal laser cutting head is a fragile item on the laser cutting machine. It is used for a long time, damaging the laser cutting head.
Check the straightness of the sheet metal cutting machine track and the verticality of the machine every six months, and find that it is abnormal and timely maintenance and debugging. If this is not done, it is possible that the cutting effect will not be perfect, and the error will increase, which will affect the cutting quality.
Use a vacuum cleaner once a week to suck out the dust and dirt inside the machine. All electrical cabinets should be strictly closed to prevent dust.
Check the sheet metal cutting machine steel strip frequently to ensure the tension. Otherwise, if there is a problem in operation, it may hurt people.
Each guide rail of the China CNC tube fiber laser cutting machine should be cleaned frequently to remove dust and other debris. The regular equipment rack should be wiped often, and lubricated oil should be added to ensure lubrication without waste. The guide rail needs to be cleaned and lubricated frequently, and the motor also needs to be cleaned and lubricated frequently. Sheet metal cutting machines can move better during travel and cut more accurately, and the quality of the cut product will be improved.
Application industry
China's sheet metal cutting machine has many applications, including many industries. It is one of the essential equipment for many enterprises, including billboard production, sheet metal processing, chassis cabinet making, spring sheets, subway parts, elevator housing, mechanical equipment shell ah, and kitchen utensils. 1500W CNC tube fiber laser cutting machine is widely used in sheet metal processing, advertising sign word making, high and low voltage electrical cabinet making, mechanical parts, kitchenware, automobiles, machinery, metal crafts, saw blades, electrical components, glasses industry, spring sheets, circuit boards, electric kettles, medical microelectronics, hardware, knife measuring tools and other industries.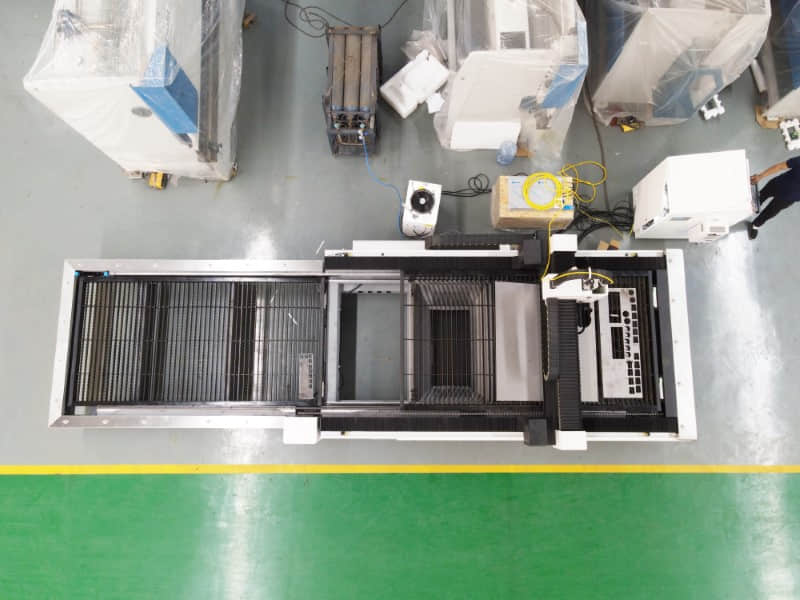 The thick plate CNC plasma cutting machine produced by Anhui Hydraulic Machinery Co., Ltd. adopts innovative research and development technology and is suitable for sheet metal processing, advertising signs, automobile manufacturing, shipbuilding, engineering facility manufacturing, special equipment and other industries. We specialize in producing 1500W CNC Tube Fiber Laser Cutting Machine, CNC Bending Machine, Hydraulic Shearing Machine, V-grooving Machine, Laser Cutting Machine, etc. The products have been sold to Germany, the United Kingdom, the United States, Australia, Russia, Italy and other countries, and have been unanimously recognized by customers. 1500W CNC Tube Fiber Laser Cutting Machine, simple and convenient operation and maintenance, high speed and high precision, can effectively improve production efficiency, change traditional production methods, and make rational use of plates.
FAQ
1. Are you a manufacturer or trading company of 1500W CNC Laser Cutting Machine?
We are 1500 W CNC Laser Cutting Machine manufacturer.
2. What if you don't know how to operate your 1500W CNC Laser Cutting Machine?
We can send our 1500W CNC Laser Cutting Machine engineers to your country, you can also send your engineers to our factory to learn the operation. In addition, detailed 1000W CNC Laser Cutting Machine installation and operation instructions are attached, which is very simple. We provide phone and email support 24 hours a day.
3. How is the quality of your 1500W CNC Laser Cutting Machine?
Hydraulic company is a mature brand in China, through our 12 years of technical research, our design including the safety and precision of structure and details is greatly improved, which can match all CE standards or stricter standards. Our 1000W CNC Laser Cutting Machine machines are sold to about 50 countries around the world, wherever there is the sheet metal industry, where there is our machine, there is a good reputation and end-user satisfaction.
4. What are the payment terms for your 1500W CNC Laser Cutting Machine?
We support T/T, L/C, D/P, D/A, Western Union, etc. TT, 30% prepaid, 70% paid before shipment.